Arkansas AFN is a regional chapter of grantmakers who invest in opportunities for low and middle income individuals and families to build economic well-being. Members include private, public, corporate, and community foundations, public-sector funders, and financial institutions who want to help Arkansans secure economic stability, for now and for years to come. Arkansas AFN connects funders and their peers in the nonprofit, public, and private sectors. Together they share promising programs and smart strategies, gather knowledge to make their grantmaking more effective, and work to increase investments in asset building.
Arkansas AFN was launched in 2016 as a regional affiliate of national AFN by a core group of funders including the Winthrop Rockefeller Foundation, Entergy Charitable Foundation, the Carl B. and Florence E. King Foundation, Southern Bancorp Community Partners, and the Federal Reserve Bank of St. Louis-Little Rock Branch. Membership is open to funders who invest in a range of initiatives that build assets for Arkansas, from early childhood education, college access, or workforce development to health, financial capacity, or micro-enterprise. Arkansas AFN members meet regularly and host events to share ideas. Grantmakers investing in Arkansas should contact Abby Hughes Holsclaw if interested in joining this chapter.
Educate: Arkansas AFN members learn from one another and other stakeholders as they seek solutions to local challenges. The chapter hosts forums on a variety of topics, gathering local leaders and national experts together to share data and ideas.
Elevate: Arkansas AFN highlights promising practices, key issues, and innovations in the field through funder-only dialogues as well as other convenings. Members provide an insightful Southern voice to inform national conversations on topics including Children's Savings Accounts, financial coaching, Arkansas tax reform, and banking the unbanked.
Influence: Arkansas AFN engages key stakeholders in the benefits of expanding access to opportunities to build assets. The chapter is working to raise the visibility of asset-building strategies within the broader community of foundations, public-sector funders, and financial institutions.
Grow: Arkansas AFN works to increase the number of grantmakers and resources focused on economic well-being. Members leverage one another's interests and investments and actively look for additional funders willing to invest in the South.
The videos are an effective commentary on entrepreneurship and its potential to close the racial wealth gap, and to generate more good jobs in communities long ignored.
These are truly stories about "equity" and what entrepreneurship means to families of color and how business ownership helps immigrant families integrate into our economy. They tell the story of why life style businesses are so important to our economy and also to combat inequality.
Episode 2: Sequoia Williams – That's So You Boutique in Little Rock, AR
Episode 3: Consuelo Rosales – Consuelo's Cleaning Services – Jonesboro, AR
Bank On AR+ One Year Later
The Arkansas Asset Funders Network hosted a Bank On Arkansas+: One Year Later event at the University of Arkansas Clinton School of Public Service on November 13, 2019.
At the event, Bank On Arkansas+ shared a preview of its one-year summary and stories that celebrate the heroism of individuals who have taken action to build brighter financial futures for themselves, their families, and communities. The coalition also shared that it will remain committed to building Arkansas's movement for financial empowerment and announced a tenth financial institution provider who will begin offering a certified Bank On account in 2020.
FinX and Bank On Arkansas+
Understanding the Underbanked
On September 10 and 11, Little Rock was the venue for FinX, a unique financial simulation designed to give participants a look into the financial lives of people who are underbanked—those in our communities who are operating outside the traditional financial system—and build awareness for what they're dealing with.
Hosted by Southern Bancorp in conjunction with the Financial Health Network, FinX participants represented all parts of the Little Rock community – from elected officials to financial institution representatives, nonprofit leaders, and community members.
Health & Wealth Symposium
On Wednesday, October 17, 2018, the Arkansas Asset Funders Network (AR AFN) in partnership with the Derek Lewis Foundation, convened 80 community stakeholders, business leaders, government officials, nonprofit leaders, and philanthropists for the Health and Wealth Symposium convened at Philander Smith College in Little Rock, Arkansas.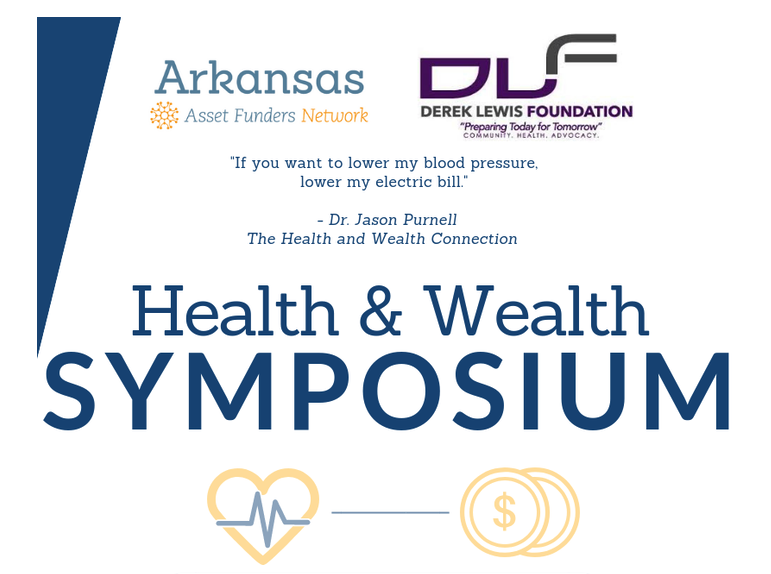 Event Highlight
March 27, 2018
On Tuesday, March 27, the Women's Foundation of Arkansas and the Arkansas Asset Funders Network joined forces to host a funders-only pre-release luncheon to celebrate the release of the benchmark report: Economic Indicators for Women in Arkansas: State, Region, and County.  This private event offered grantmakers the opportunity to hear first hand about the economic capacity and explore the  future trajectory of Arkansas women. The report was generously funded by the Carl B. and Florence E. King Foundation.
Dr. Sarah Beth Estes, lead researcher for the study,  shared the exclusive findings about the status of women across the state through the lens of various economic indicators such as poverty level, health insurance, education, earnings, wealth attainment, and more. As a result, funders explored the study's implications for future grantmaking and openly discuss opportunities before philanthropy to help make Arkansas economically secure for all Arkansans — especially women.
Speakers included:
Dr. Sarah Beth Estes, Professor of Sociology at University of Arkansas, Little Rock & Women's Foundation of Arkansas Board Member
Tjuana Byrd, Women's Foundation of Arkansas President
Tamika Edwards, Director of Government Affairs, Arkansas Advocates for Children and Families
Dr. Margaret Ellibee, Chancellor of University of Arkansas Pulaski Tech
Attendees discussed the need for philanthropy to:
Identify quick wins that show progress and build momentum

Be committed to the long-term, sustainable solutions

Not shelf the data… rather, follow it!

Embrace collaboration for greater impact

Be courageous — be willing to fund innovation
You can view the report here on the Women's Foundation of Arkansas's website.