We've Launched!
The Central Texas Chapter of the Asset Funders Network represents a diverse group of organizations including the corporate sector, community and private foundations, and financial institutions coming together toward a common goal: catalyzing equitable access to prosperity-building opportunities that drive economic mobility. Regardless of our unique ways we make grant and funding decisions, we are united in the belief that in working together and leveraging our unique strengths, we can better resolve complex, persistent financial and economic challenges for families and individuals who lack equitable access to asset building. We commit to working collaboratively across multiple systems (including economic, housing, workforce, health, and philanthropic systems) to address the systemic change needed for all people to have the ability to thrive.
Are you a Central Texas grantmaker interested in joining this chapter? Contact us to learn more. Fran Rosebush Baylor, fran@assetfunders.org
Regional Focus Areas
Financial Health
Housing
Employment & Income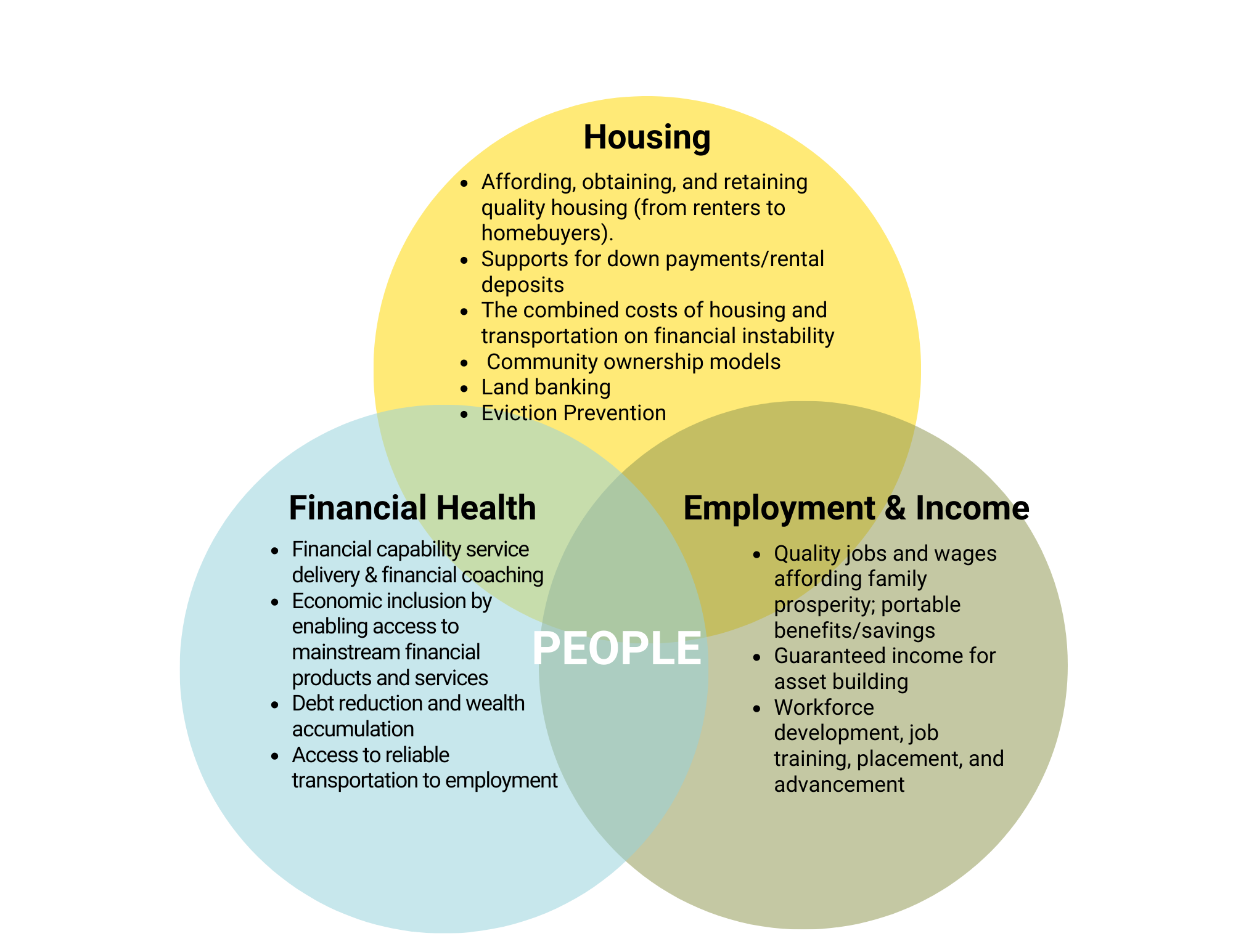 Upcoming Events
October 25 @ 3:30 pm - 5:00 pm CDT : Central Texas AFN Power Building Learning Series
You are invited to join Central Texas AFN for a funder only two-part learning series exploring investing in power building taking place August 30 and … REGISTER
CLICK HERE for more information and resources from our past events.
Join our mailing list to stay informed of Central Texas AFN updates and events.
Our Guiding Principles
Commit to centering with and learning from our grantee partners and their network of beneficiaries, particularly the individuals and communities of color that historically have been excluded, to inform our strategic priorities.
Seek to continually lift root causes, learn from data-informed research and lived experiences, and take action-oriented approaches that lead to systemic change.
Strive to be intentionally inclusive and expand the opportunities for all types of funders to collaborate, engage, and invest.
Dedicated to promoting and modeling cross-sector collaboration.
Op Ed in the Austin American-Statesman
Fran Rosebush Baylor and the Central Texas AFN Steering Committee penned a letter to the Statesman on breaking the barriers to financial health in Austin.  "Asset-building makes prosperity achievable, but Central Texans cannot achieve financial health without our leaders taking a hard look at the systems that put assets out of reach for some."  READ NOW
Inform: Highlight promising practices, key issues, and innovations in the field through funder-only dialogues as well as other convenings. Members provide an insightful regional voice to inform national conversations.
Build: Seek to increase the number of grantmakers and resources focused on economic well-being. Members jointly fund or pool funding to support projects with a goal of aligning strategies, outcomes, and financial support.
Influence: Engage key stakeholders to grow their knowledge and support. This includes efforts to raise the visibility of asset-building within the broader community of foundations, public-sector funders, and financial institutions. We seek to continually lift root causes, learn from data-informed research and lived experiences, and take action-oriented approaches that lead to systemic change.
Connect: Learn from each other and from other organizations as they seek solutions to local challenges and explore the potential for aligned investment strategies to address them effectively. The chapter will host funder forums to explore asset-building strategies with both local leaders and national experts.