Southern Partnership to Reduce Debt (SPRD)
In 2017, The Annie E. Casey Foundation launched a multiyear, multistate effort called the Southern Partnership to Reduce Debt to close the racial-ethnic wealth gap and bring financial security to households of color. The effort involves several national organizations including the Aspen Institute, Center for Responsible Lending, National Consumer Law Center, National League of Cities, Prosperity Now, the Urban Institute, and MDC—and more than 20 state and local organizations working in seven southern states. These partners are primarily focusing on four kinds of debt: public sector fines and fees, medical debt, student loan debt, and highcost loans (e.g. payday loans).
The partnership seeks to support state and local policies to protect families from bad debt, expand access to debt reduction programs and products, and eliminate wealthstripping
practices. The Asset Funders Network is partnering with The Annie E. Casey Foundation to
connect funders to this effort through information sharing, networking, and convening.
Goals
The Southern Partnership to Reduce Debt is enabling more families of color to eliminate debt and build and maintain wealth by:
Enacting state and local policies that protect them from predatory, wealth-stripping products and practices;
Developing innovative, scalable models to prevent and eliminate debt;
Holding public institutions accountable for reducing debt burdens for their consumers and communities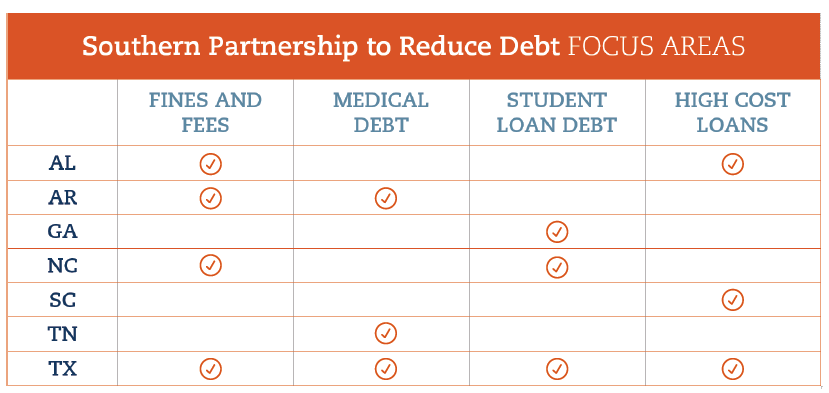 COVID-19 and the Impact of Debt on Low-Income Households 
COVID-19 has brought about health and financial challenges unlike anything experienced in modern history. The financial crisis wrought by COVID-19 has a disproportionate impact on low and moderate-income households and communities of color. Many low-income people are losing their jobs, as most low-paying jobs cannot be done remotely. As a result, families are unable to pay their rent, buy food, or afford medical care and are increasingly turning to debt to cover basic living expenses.
Before the crisis, chronic household debt was a sizable barrier to financial stability and COVID-19 will exacerbate the problem. Though debt is a widespread problem, the racial wealth gap continues to drive and feed this problem. According to the Urban Institute, 26 percent of US households have debt in collections and 42 percent households of color have debt in collections. Reducing debt is a critical first step to helping families—including families of color–get and stay on a path to financial security. The Southern Partnership to Reduce Debt (SPRD) is a strategy to address this challenge.
The Southern Partnership to Reduce Debt and the Wealth Gap
Learn more about the partnership
Debt in Texas Learning Series
Preventing and Relieving the Debt Burdens of Working Families
AFN partnered with the Federal Reserve Bank of Dallas, Annie E. Casey Foundation, Charles Schwab Bank, Communities Foundation of Texas, JPMorgan Chase & Co., and Texas Women's Foundation to develop a three-part learning series to educate, engage, and influence grantmakers, policymakers, practitioners, and other stakeholders about strategies for reducing household debt in Texas. This series addressed Student Debt, Government Fines & Fees, and Medical Debt.  VIEW THE SERIES