See excerpts from the brief below!
AFN's new report, Pioneering Health and Wealth Integration for Children, in collaboration with Yale's Medical School Program for Recovery and Community Health, reveals that for many children 3-17 years of age, health and wealth inequities are standing in the way of a prosperous future, especially with children of color.
This brief includes:
The latest research on the health-wealth connections that matter for children,
An on-the-ground example that is pioneering integrated services for children,
Perspectives from grantmakers investing in the intersection of health-wealth services for children, and
Actionable recommendations to improve health and wealth outcomes for children.
EXCERPTS FROM THE BRIEF
HEALTH AND WEALTH BUILDING INTEGRATION
About the Spotlight
Despite the well-documented connection between health and wealth, investing in this intersection is still a new approach for many grantmakers. With the goal of inspiring increased philanthropic attention, exploration, and replication, this new spotlight elevates responsive philanthropic strategies that support both health and wealth and builds on the ideas presented in AFN's 2017 brief, The Health and Wealth Connection: Opportunities for Investment Across the Life Course.
This report focuses on the childhood/adolescence stage of the life cycle (3-17 years) in part to answer interest and demand from AFN members. From our investigations, this age segment has the least amount of integration activity. With the goal of inspiring increased philanthropic investment, AFN chose to concentrate on this cohort as we think it offers the greatest opportunity for pioneering investment for grantmakers.
---
Children are impacted by the bidirectional health-wealth connection in many ways as shown in the table below. In addition, wealth inequalities (as detailed in AFN's Health and Wealth
Connection: Investment Opportunities Across the Life Course brief) impact health separately from the
material circumstances of wealth itself. When children and families have low wealth compared to others, they experience negative health outcomes.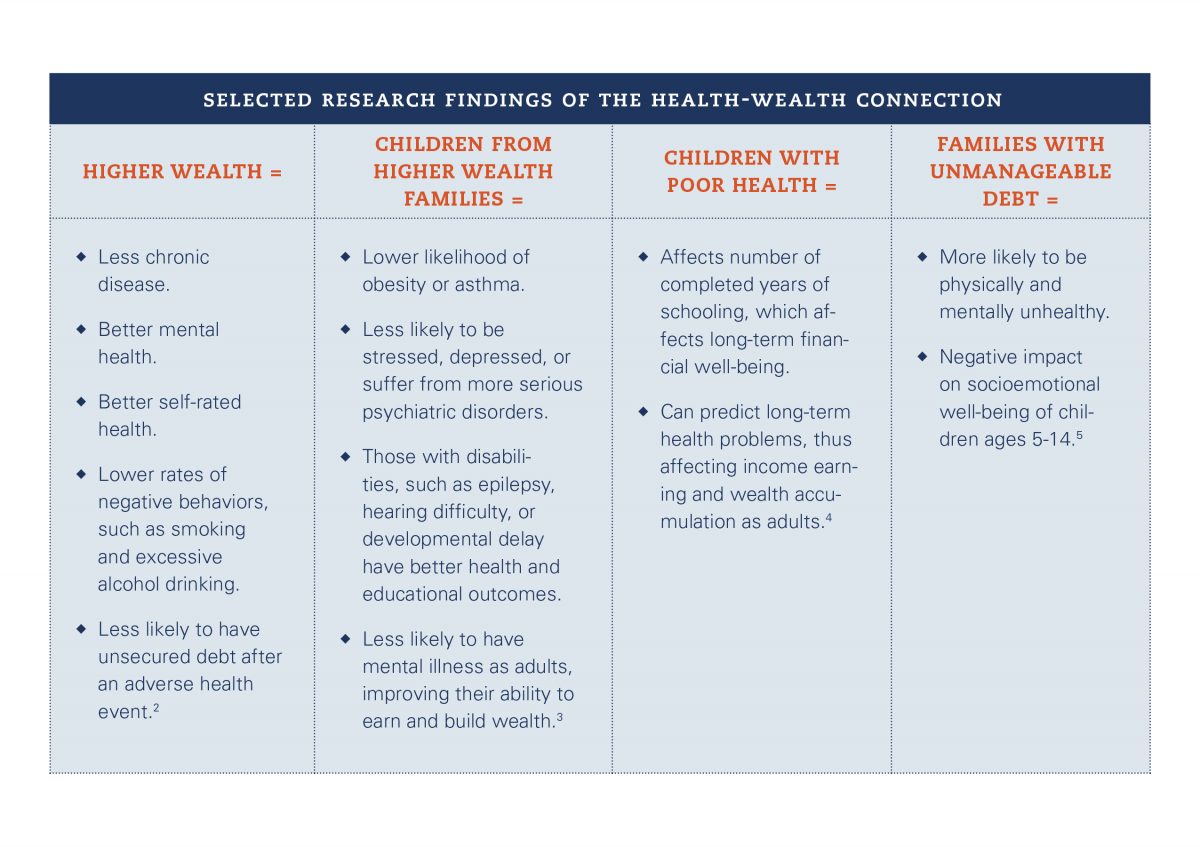 OPPORTUNITIES FOR FUNDERS TO GROW THE FIELD
Promising health-wealth work for children and adolescents is being done across a variety of sectors—health care, education, community-based nonprofit organizations, and economic development. The opportunities are to intentionally scale and replicate these efforts, better connect and integrate services, and adopt intentional health and wealth program design and outcomes. We can think of integration occurring along a continuum as displayed below:

To grow the field and deepen the impact on children's well-being, grantmakers must consider how to move toward greater levels of health-wealth integration and scale. Funding full integration maximizes the impact on a child's well-being and helps identify systems change opportunities.