Author:
REBECCA M. LOYA
Institute for Economic and Racial Equity, Brandeis University
Education after high school, or postsecondary education (PSE), is an important determinant of individuals' future opportunities, as well as their health and even lifespan. Children's Savings Accounts (CSAs) are programs that aim to increase access to PSE by building parents' and children's educational expectations and a "college-bound identity" starting early in children's lives. CSAs are a vital part of the equity agenda that remain critically important even as other strategies are put in place to broaden postsecondary access.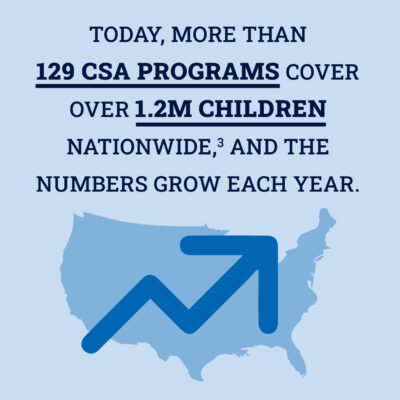 PSE has never been more important to determining people's economic well-being, health, and quality of life. The average worker with a bachelor's degree (BA) earns $26,000 more per year than a worker with a high school diploma. An associate's degree (AA) adds $7,300 to a high school graduate's annual earnings.
The benefits of PSE are not economic alone. Compared to those with more education, less-educated individuals suffer worse general health and more chronic conditions (including asthma, diabetes, heart disease, stroke, and cancer).
Research demonstrates a growing divide in life expectancy between those with a BA degree or more and those without. Between 1990 and 2018, the life expectancy gap between these groups more than doubled, as the more-educated group is living longer, while those with less than BA are experiencing shorter lifespans.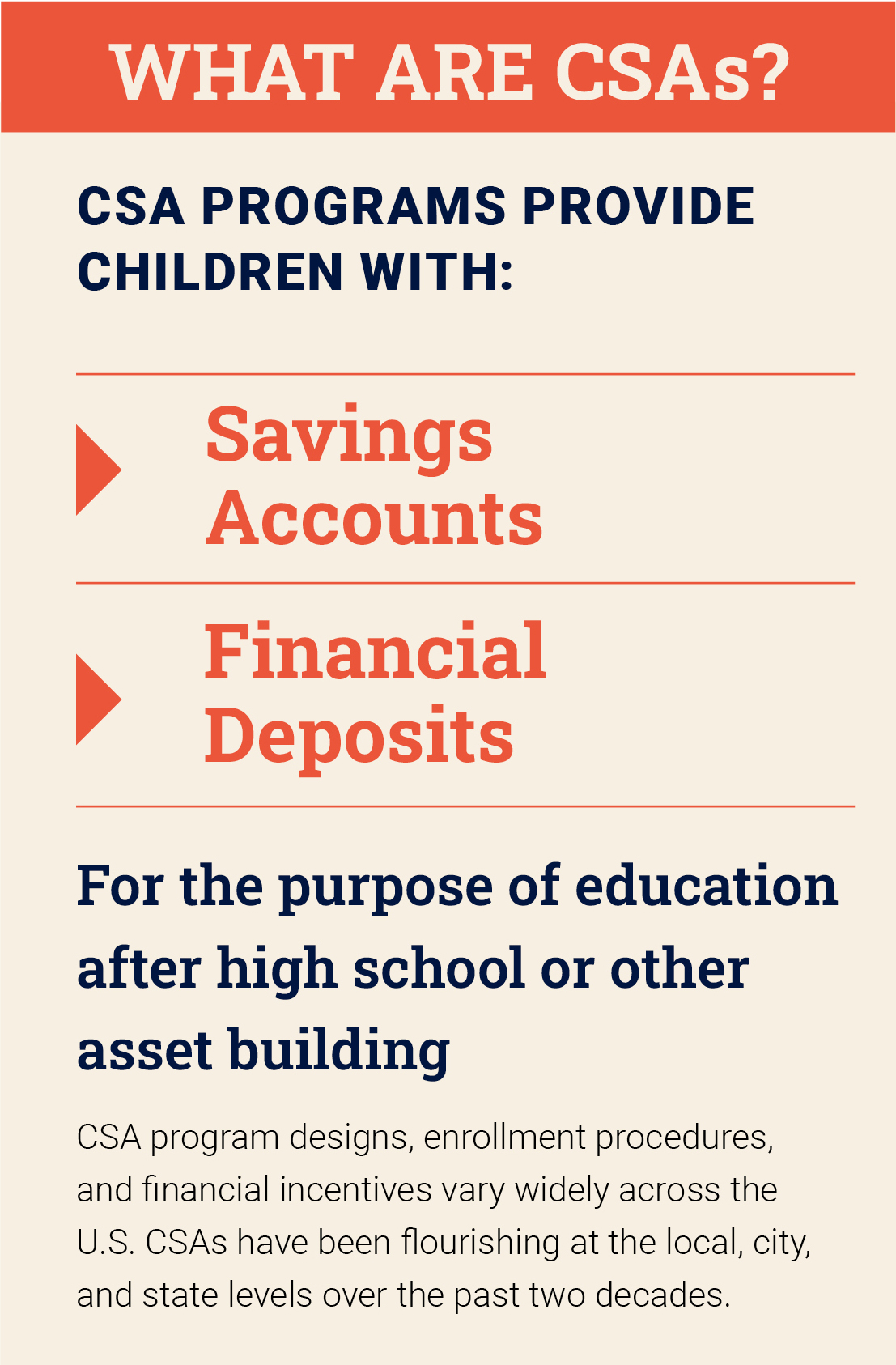 Educational Inequities Manifest Early and Persist
PSE completion is still plagued by racial and economic inequalities in access, preparation, and success — 40% of White (non-Latinx) and 57% of Asian American and Pacific Islander (AAPI) individuals have completed a BA degree or higher, while only 26% of Black, 17% of Indigenous, and 19% of Latinx individuals have done the same.
Large gaps also exist by the income level of students' family of origin. In 2019, 62% of young adults from the highest family income quartile* had earned a BA degree by age 24, compared to 13% of youth from the lowest family income quartile.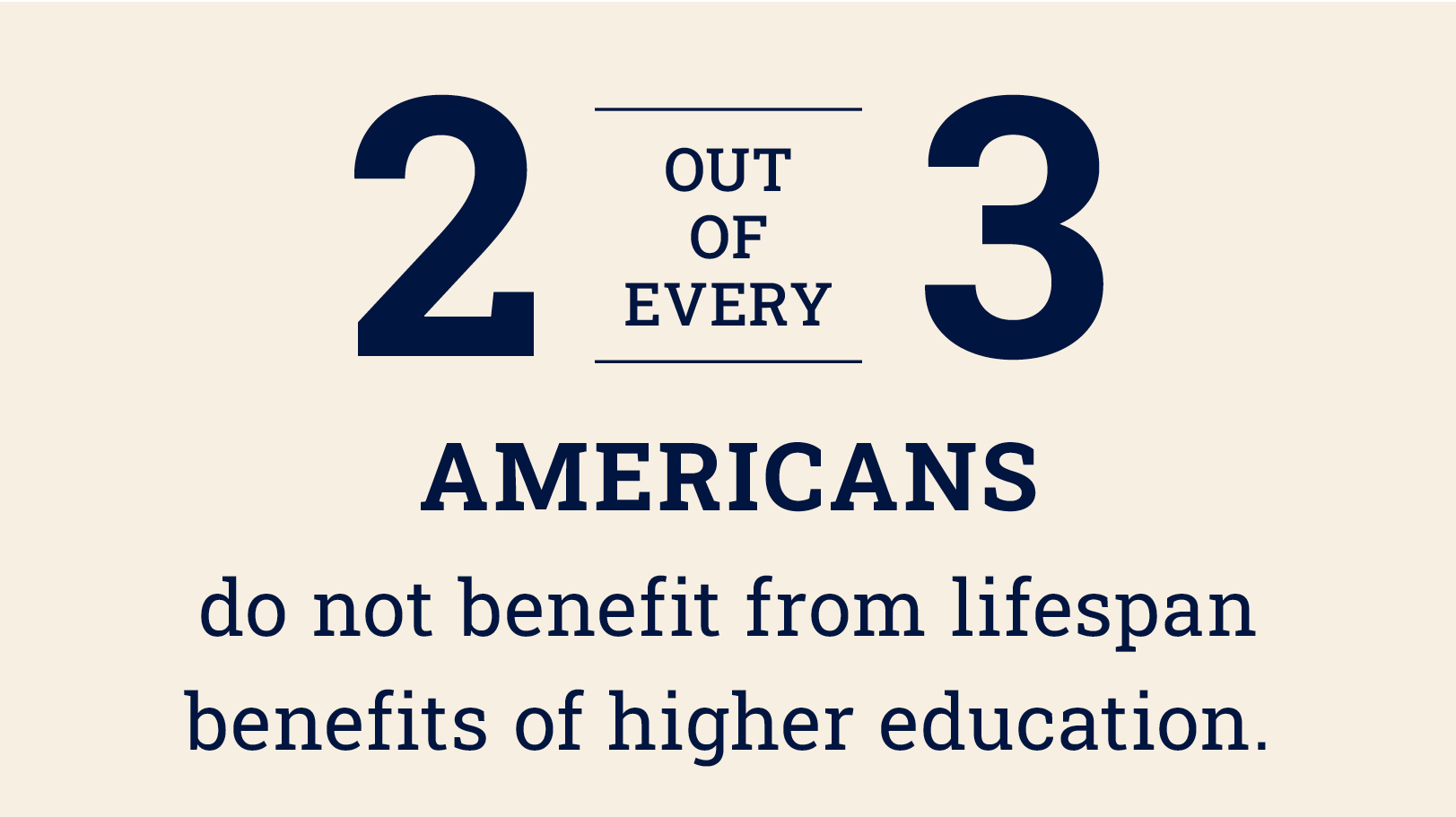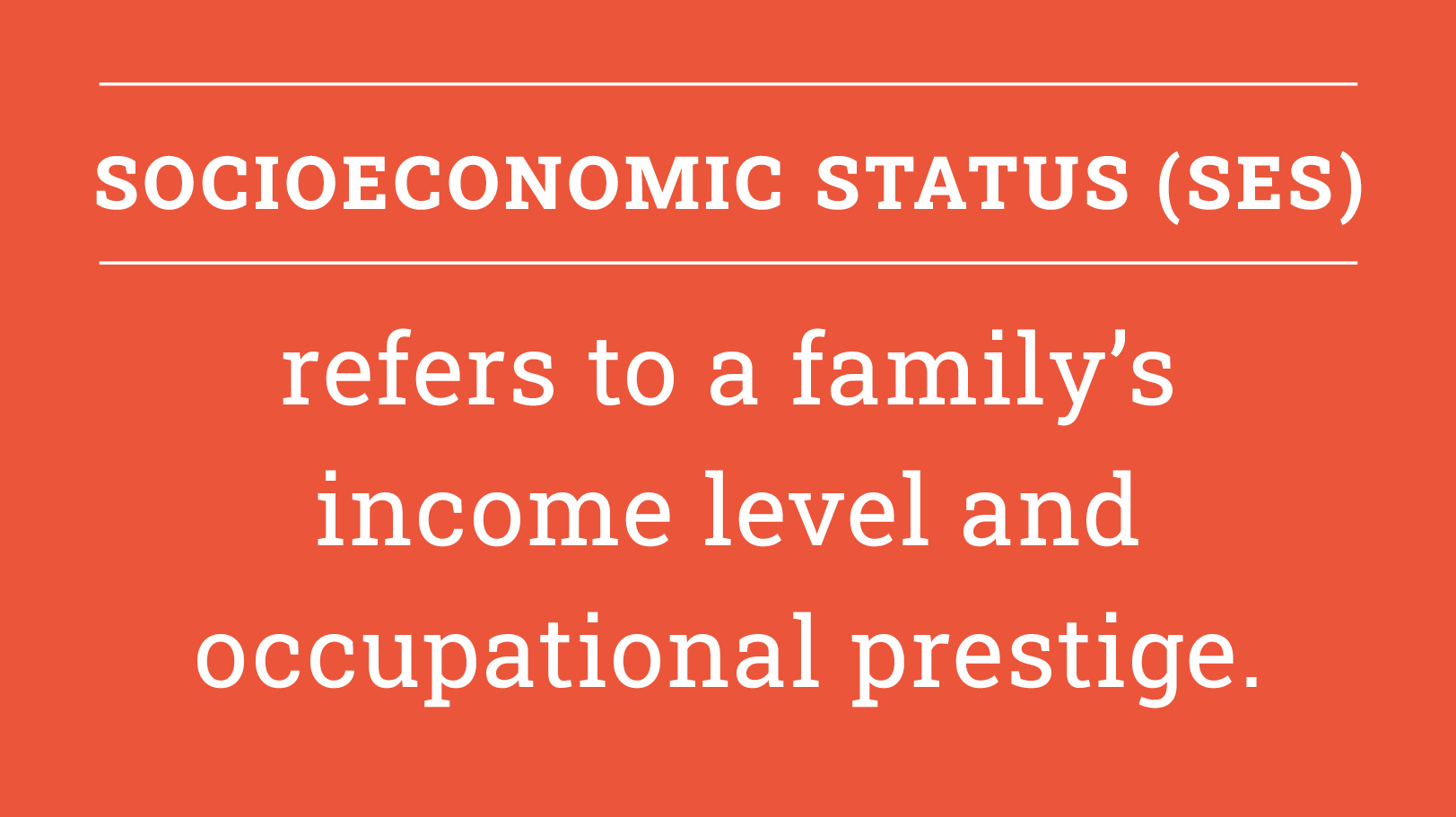 Hard work is not enough to guarantee success. Regardless of children's efforts or academic aptitude, their family's socioeconomic status (SES) plays a role in school success from the very beginning of their education.
The Challenge:
College Affordability and Building a Pipeline of Diverse Students
Standing in the way of broader PSE enrollment and attainment are many barriers, including both high and ever-growing costs of attendance, inequitable opportunities to academically prepare, and an insufficient population of diverse students. The range of potential solutions includes: tuition-free community college, reduced tuition at public universities, increased tuition tax credits, significant expansion of College Promise programs, an overhaul of the federal loan and grant system, employer-provided benefits, and a host of other ideas. While each is extremely valuable, most of these approaches are focused on tuition costs alone, not the related costs of gaining an education, such as housing, food, transportation, books, and computers.
CSAs are designed to reach each child and their family early in the life course, instilling the message that "college (or other PSE) is an option for you."
CSAs play an important role in addressing the pipeline challenge by building students' and families' educational aspirations and expectations from a young age. Since SES-based achievement gaps already exist when children enter kindergarten, interventions designed to raise children's awareness of PSE and instill the belief that they are "college material" will be most effective if they too begin early in life. The unified goal of CSAs is to improve equity in access to PSE, so that a child's family income or race does not determine their access to education after high school.
How do CSAs keep children in the PSE-bound pipeline?
CSAs are associated with promising outcomes for children and their caregivers across the life course, including:
Improved early child socioemotional development
Many of these benefits are strongest for children from low-income families. Looking at the body of evidence as a whole, CSAs emerge as a model with tremendous potential to expand the pipeline of PSE-bound students to increase racial and economic equity.
To reach the children who have been historically left behind and achieve maximum impact, it matters how CSAs are designed and implemented. Program structure and design can play an important role in accessibility equity.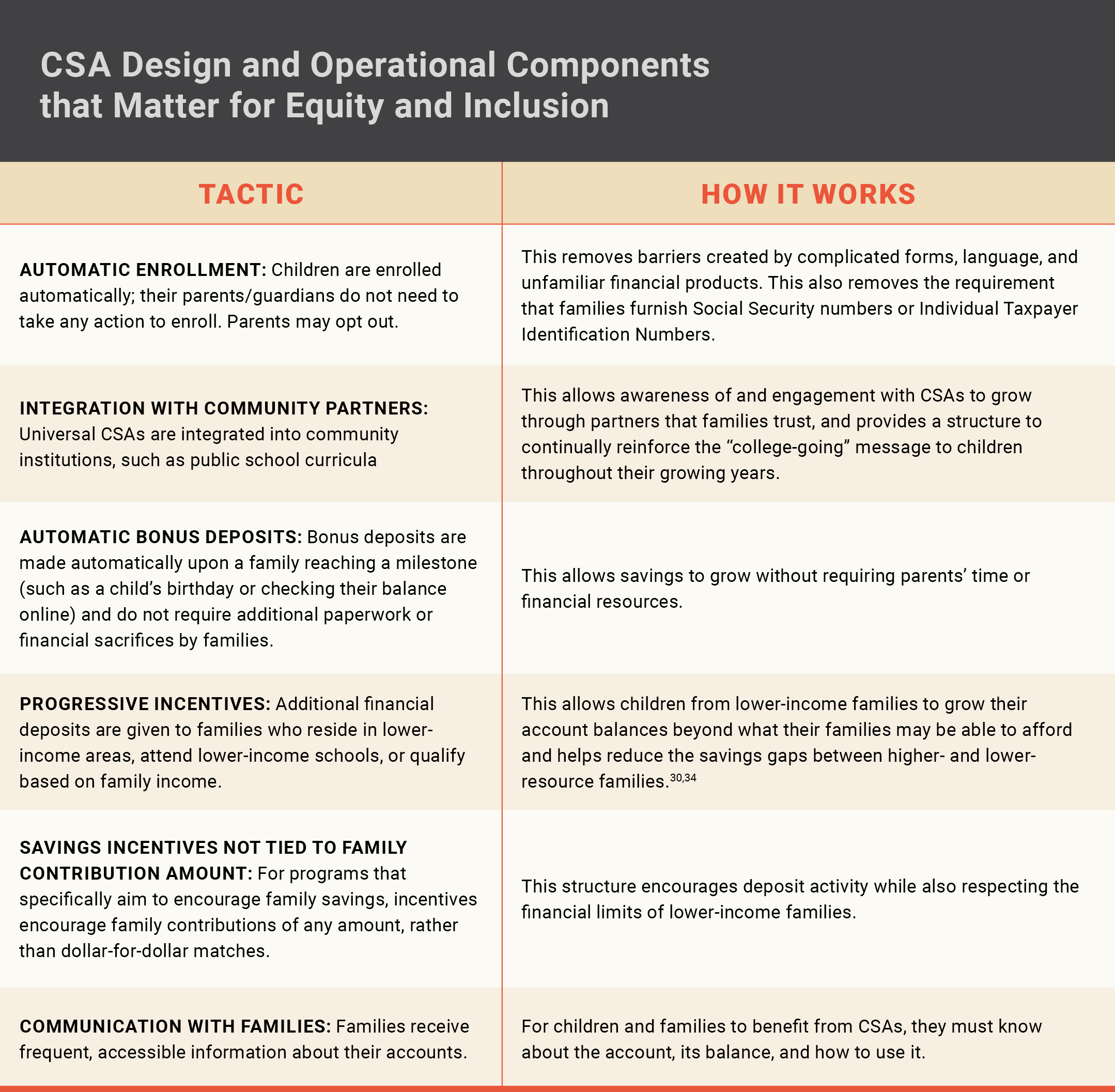 Universal, automatic enrollment may play the most important role in reaching students who have historically been excluded. Not only does universal, automatic enrollment ensure participation by children from low- and moderate-income families and Black, Latinx, and Indigenous families, it also reduces racial and income disparities in savings. Because they reach all children, universal, automatic CSAs also have the unique opportunity to integrate their message into community institutions, for continuous, ongoing reinforcement over a child's growing years.
Financial deposits for families, sometimes called incentives, are another central component of CSA programs. These may include an initial or "seed" deposit, a match on family contributions, or deposits made when milestones are reached, such as the start of a new school year or a family checking their account balance online.
While some CSAs aim to grow account balances without ever requiring parental contributions, other programs specify family savings as a central goal. While dollar-for-dollar matches can encourage family deposit activity, they tend to benefit high-resource families disproportionately. To maximize equity, some programs have shifted away from dollar-for-dollar matches, offering bonus deposits instead, to reward even small family contributions.
Frequent communication with families is another way to ensure that all enrolled children benefit from the CSA's message of hope. Regular account statements, information about the program, and resources for planning for PSE, allow families to remain engaged with and aware of the program throughout their children's growing years.
Philanthropic Funding
an Essential Ingredient for CSA Equity
The majority of CSA programs in the U.S. rely on philanthropic support: 83% of CSA programs receive some private funding, and 55% of CSAs rely exclusively on private funding. Many CSAs leverage philanthropic funds to target their outreach or engagement strategies to reach children who might otherwise benefit less from the program.
Well-designed CSAs help address the intersectional, systemic barriers to the widening of the PSE pipeline in ways that "affordable college" alone cannot do.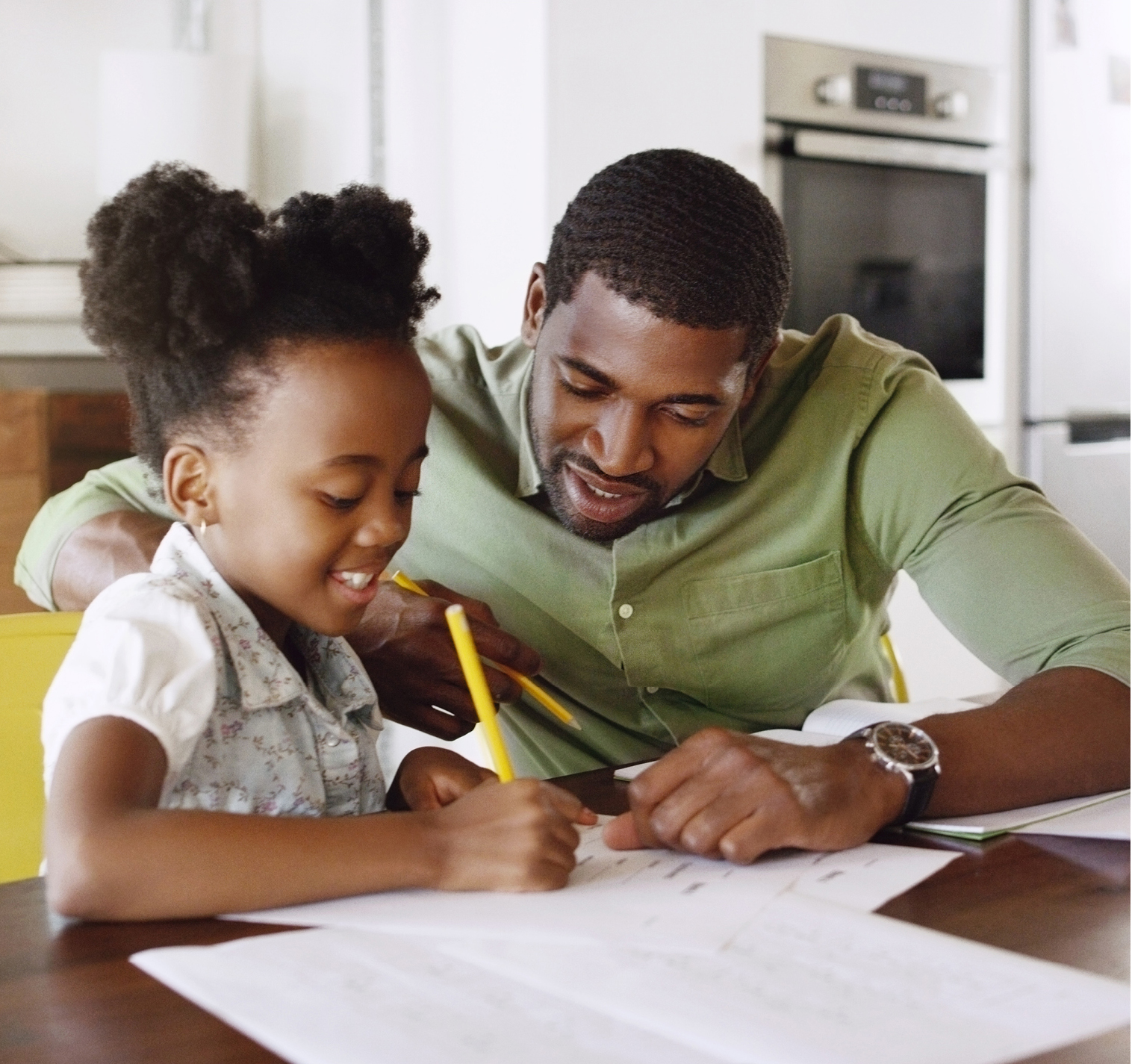 CSAs' unique value comes down to programs' financial investment in children coupled with their capacity to bring children and families into frequent contact with information about planning for PSE, savings, and high expectations for the future.
AFN's Related Work on CSAs