Making Safety Affordable: Intimate Partner Violence is an Asset-Building Issue
Amy Durrence
Director of Systems Change Initiatives
FreeFrom
Kirkley Doyle
Director of Data and Research
FreeFrom

Sonya Passi
Founder and CEO
FreeFrom
THE PROBLEM: THE INVISIBLE SURVIVOR WEALTH GAP
Our response to intimate partner violence isn't working, and the proof is in the prevalence. Despite a movement spanning over 40 years, 1 in 4 women and nearly 1 in 2 transgender people still experience intimate partner violence in the U.S. So, what are we getting wrong about this violence? The answer lies in how we frame the problem. We approach intimate partner violence solely through crisis intervention, when in reality it is an asset-building issue.

SURVIVORS ARE TRAPPED IN ABUSIVE SITUATIONS AS A RESULT OF FINANCIAL INSECURITY
We need earlier interventions that support survivors before they are so financially devastated by abuse that their only options are living in danger or becoming homeless. We also need an enduring continuum of support that goes beyond the immediate aftermath of crisis to ensure that survivors and their families can continue to financially recover, heal, and build the financial security they need to remain safe.
Treating intimate partner violence as an asset-building issue requires that we consider the other intersecting systemic inequalities that impact survivors' ability to build wealth.
THE SOLUTION: INVEST IN SURVIVOR WEALTH
Intimate partner violence is an asset-building issue and must be addressed as one.
Long-term safety for survivors begins with financial security and investment in survivor wealth. Survivors need living wage employment. Survivors need savings and other assets. Survivors need wealth. When faced with costs reaching six figures compounded by the effects of economic abuse (no job, no cash, no savings), minimum-wage work will not lead to safety, healing, and recovery. Through products, services, early interventions, and enduring continuums of support that center on survivors' needs, we can disrupt the cycle of intimate partner violence in the U.S. and create generational safety, health, wealth, and prosperity.
In this brief, we explore three existing unmet needs that contribute to survivors' inability to build wealth: money, tailored asset-building support, and safe and responsive banking and credit services. Within each identified need, we discuss specific issues facing survivors, strategic actions in response to those issues, as well as innovative ideas and existing promising practices to help funders take action to prioritize survivor wealth.
Survivors don't have the cash they need to secure their safety.
The reality is, safety often means completely starting over — and starting over is expensive. Survivors need cash and the freedom to spend it as they see fit so they can cover a range of costs.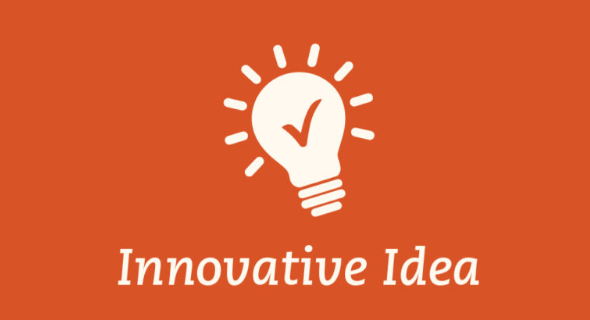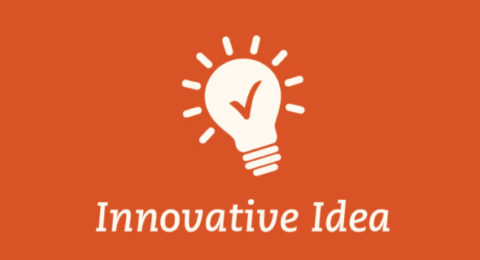 Up to 60% of survivors lose their job as a result of the abuse.
The experience of intimate partner violence is incredibly disruptive to a survivor's employment. This disruption can take many forms — survivors missing work to deal with any number of urgent matters (seeking medical attention, obtaining a restraining order), harm-doers preventing survivors from going to work, or at times disruptively showing up to a survivor's workplace.
SURVIVORS NEED TAILORED SUPPORT-BUILDING ASSETS
ASSET-BUILDING PRODUCTS ARE NOT MADE FOR SURVIVORS
Most of these products assume that users have at least some disposable income, access to assets, and financial capability to navigate and use the products. However, as a result of intimate partner violence, survivors rarely have the foundational assets, resources, or confidence necessary to benefit from these products.
THE MOVEMENT TO END IPV IS NOT ABLE TO PRIORITIZE ASSET BUILDING
Survivors can't stay safe without financial security, but they are not getting the support they need to build financial security when they seek services.
Service providers and shelter leadership identify a lack of unrestricted funding as a barrier to doing financial work with their clients.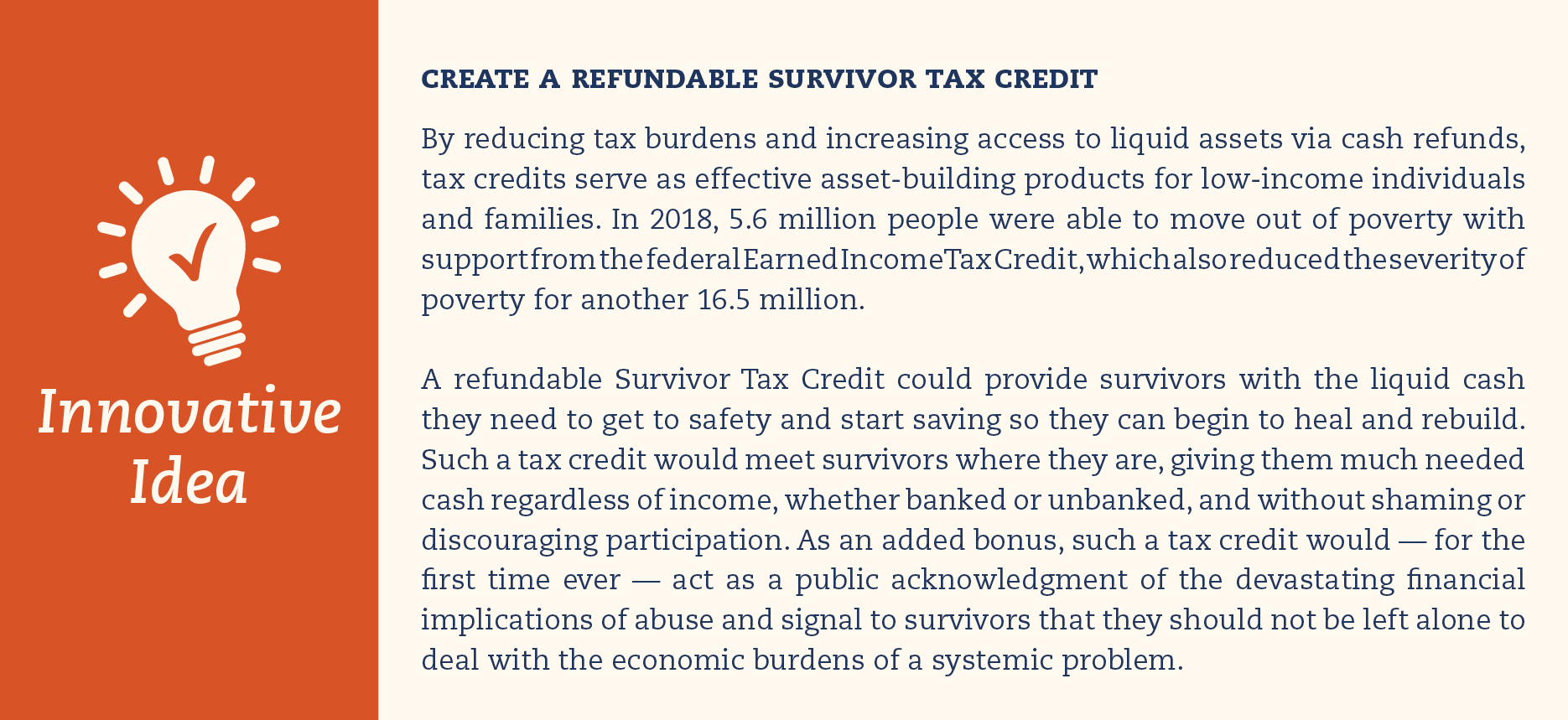 SURVIVORS NEED TAILORED SUPPORT TO BUILD ASSETS
Creditors and credit-reporting agencies provide little to no relief for ipv-related fraudulent and coerced debt.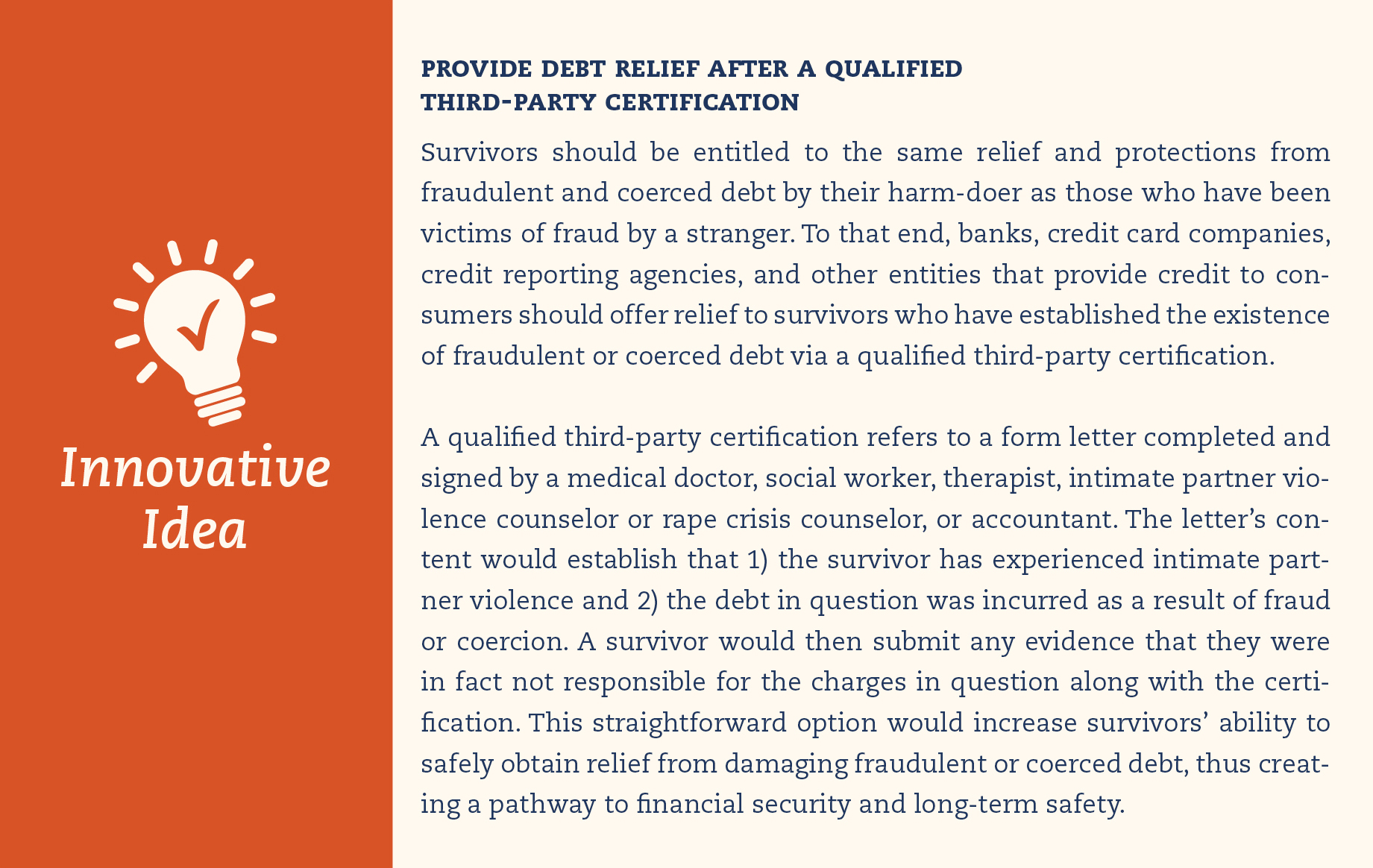 Existing banking systems do not support survivors
Banking as a survivor is not always easy or safe. Harmdoers use banks to commit economic abuse through tactics such as monitoring and controlling survivors' online bank accounts, using banks to locate survivors after they leave, and incurring debts in a survivor's name.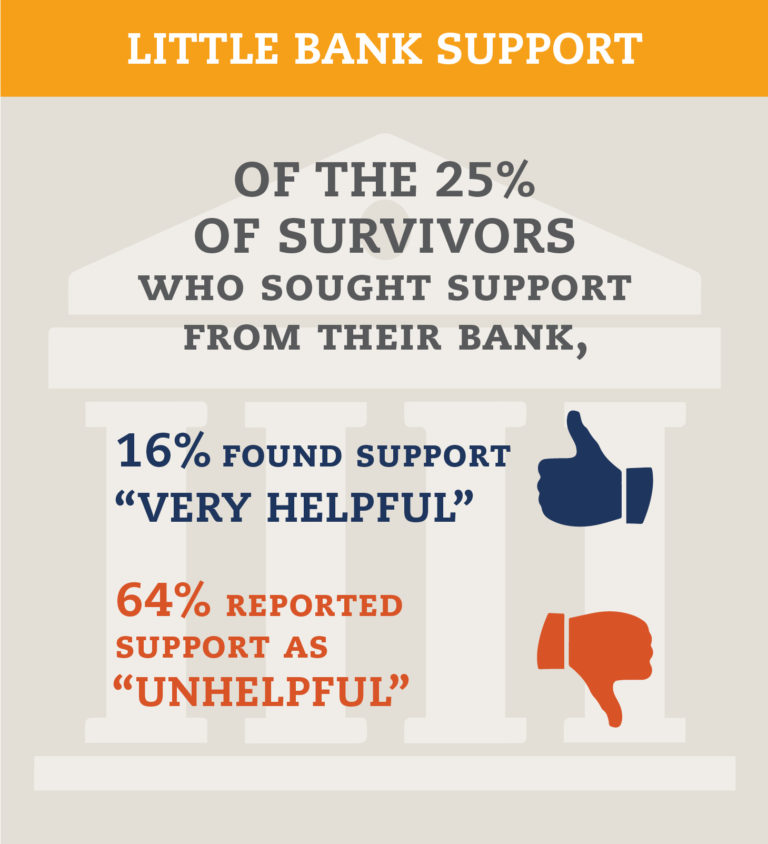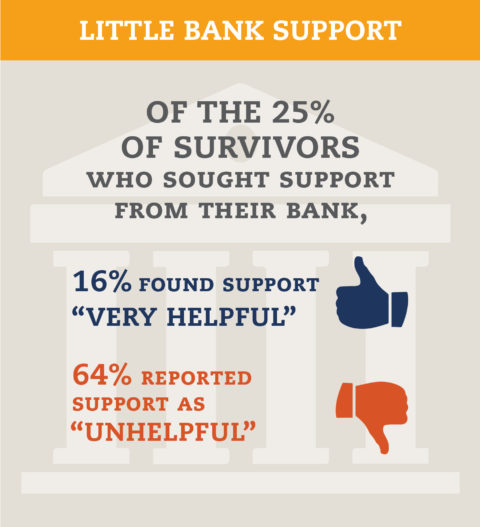 As a society, we misunderstand intimate partner violence as an interpersonal issue instead of a structural problem, and so we treat the perpetual existence of intimate partner violence as a foregone conclusion. Structural problems require structural solutions and we must expand our framework to address this violence as an asset-building issue. In so doing, we can create a world where safety is affordable for everyone and survivors are able to overcome the extraordinary costs and financial harm associated with intimate partner violence, to heal, rebuild and create safe homes, and pass on wealth to their future generations. Funders have a ripe and unique opportunity to influence and develop individual, community, and structural interventions to end the cycle of violence in the U.S. The key to doing so is investing in survivor wealth.
The Asset Funders Network (AFN) is a membership organization of national, regional, and community-based foundations and grantmakers strategic about using philanthropy to promote economic opportunity and financial security for low- and moderate-income Americans.
AFN works to increase the capacity of its members to effectively promote economic security by supporting efforts that help low- to moderate-income individuals and families build and protect assets.
Through knowledge sharing, AFN empowers foundations and grantmakers to leverage their resources to make more effective and strategic funding decisions, allowing each dollar invested to have greater impact.