Set Up to Fail
Fines, Fees & Financial Insecurity
Kiese Hansen
Joanna Smith-Ramani
Aspen Institute Financial Security Program 
CHRONIC DEBT is a rapidly growing problem among households across the US and a significant barrier to financial stability and wealth building.
Prior to the COVID-19 pandemic, many households were already struggling; 77% of Americans held some form of debt. COVID-19 presented an unprecedented challenge to both households and the broader economy. Widespread unemployment left many scrambling to cover rent, utility payments, food, and medical bills — and many took on debt to cover these costs and other expenses.
There is an urgent need for debt-reduction tools, strategies, and solutions. Debt reduction is particularly important for Black, Indigenous, and people of color who, because of structural racism, are more likely to encounter predatory lending practices, face difficulties with repayment, and have little or negative net worth.
SETTING CONTEXT: Understanding the Consumer Debt Crisis and the Financial Stressors We Live With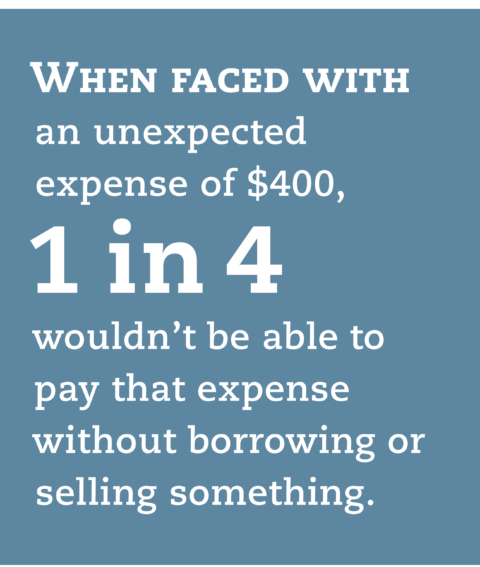 While borrowing has historically been used as a tool to acquire greater economic mobility and choice, consumer debt is a growing problem area on the household balance sheet.1 Disturbingly, the increase in debt is not due to wealth-creation opportunities such as homeownership or investing in a small business, but for basic needs, including medical care.
More than one in three U.S. households live in housing that is unaffordable to them, and one in four renters spend more than 50% of their income on rent.4 This instability is disproportionately pronounced among communities of color.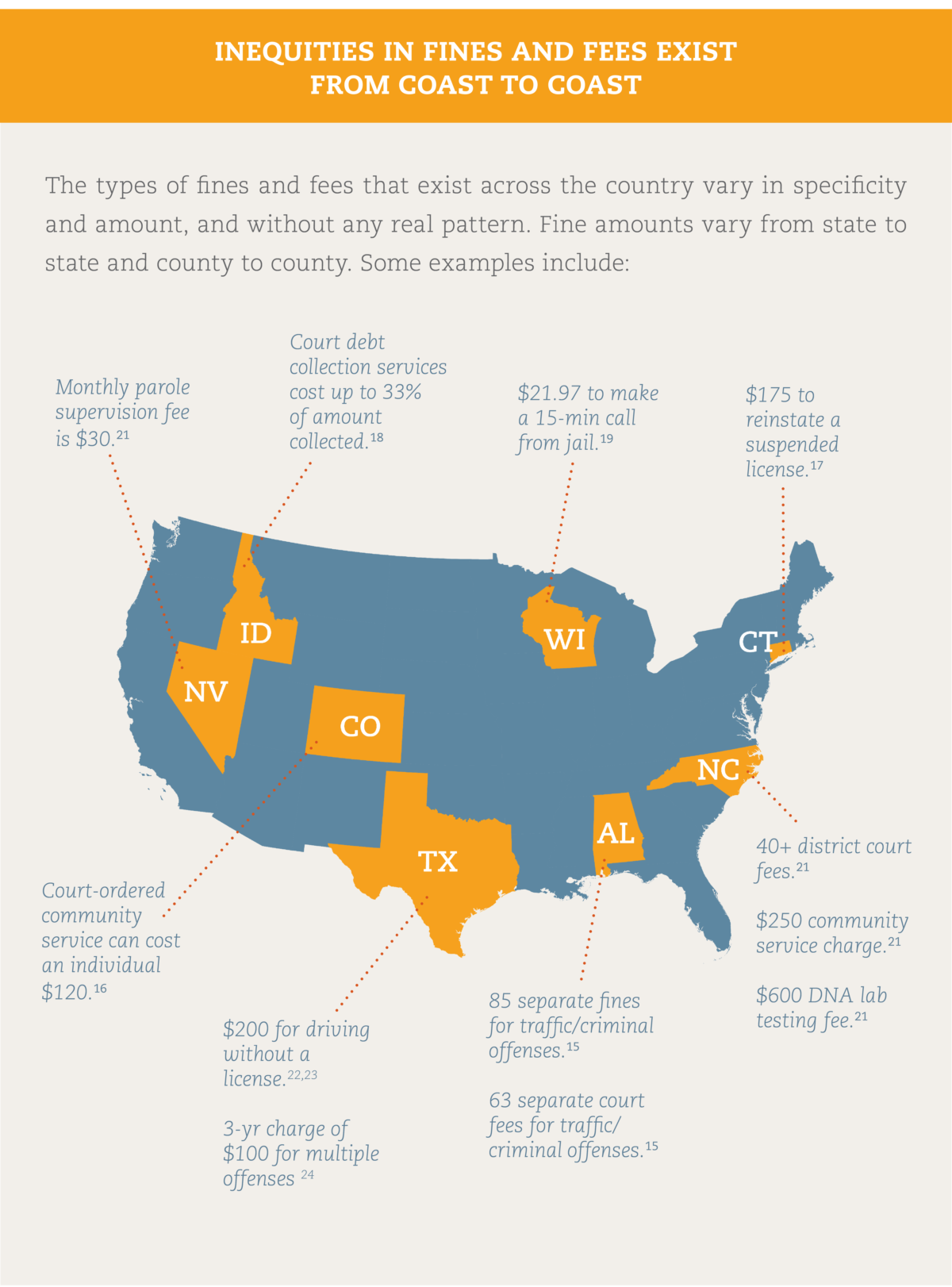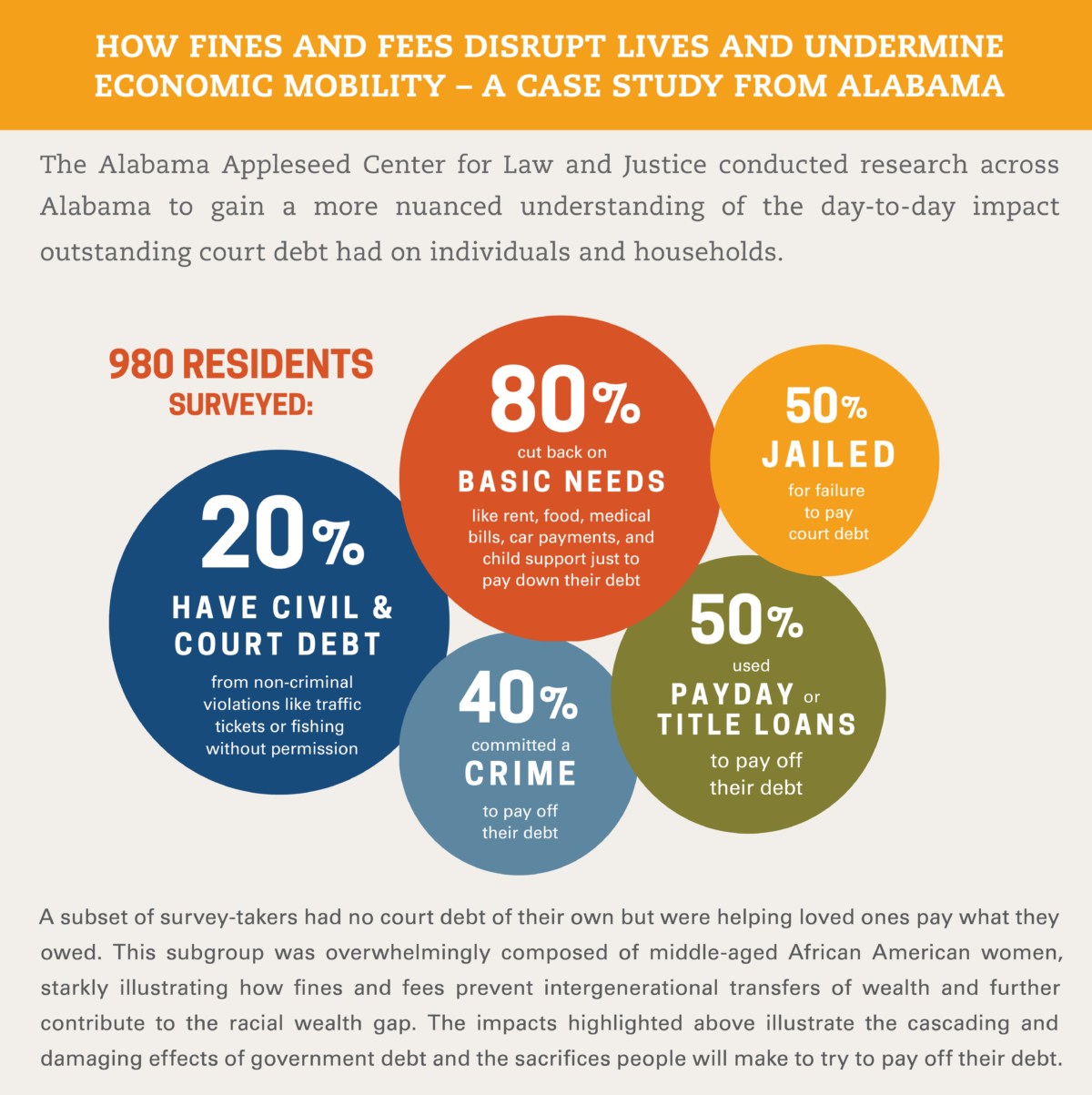 "In my research in Alabama, I encountered countless people who experienced financial penalties as the disruption that derailed their lives. They'd lost drivers' licenses, jobs, even their liberty. Over and over, they expressed dread and hopelessness.
'What can I do?' a woman who had been paying off fines and fees for nearly a decade asked me. 'You can't get blood from a turnip.' "
LEAH NELSON
RESEARCH DIRECTOR,
ALABAMA APPLESEED CENTER FOR LAW AND JUSTICE
Promising Practices for Mitigating the Impact of Fines and Fees
These are examples of the various projects cities and states have developed and
implemented to address the issue. Funders may use these examples to draw inspiration in
getting started or in taking steps toward supporting this work.
"When states stop [the practice of suspending licenses], people are getting jobs, their median income is growing, they are able to rejoin the workforce, start paying these fines and fees, engaging in economies, and taking care of their families."
PRIYA SARATHY JONES
NATIONAL CAMPAIGN DIRECTOR
FINES AND FEES JUSTICE CENTER
HOW PHILANTHROPY CAN SUPPORT CHANGES IN POLICY, PERCEPTION, AND KNOWLEDGE
Hosting convenings and
educational initiatives
Supporting public-private
partnerships
Engaging community practitioners and faith-based groups Grantmakers can support community
Funding additional research into the collateral consequences of fines and fees
Using their influence to change the narrative and understanding
Fines and fees are a barrier to economic security and wealth, and disproportionately impact Black and Indigenous individuals and households and all people of color.
The Asset Funders Network and the Aspen Institute Financial Security Program are committed to helping other organizations and grantmakers learn about the impacts of fines and fees, invest in solutions to reduce their harmful effects, and center racial equity in this work. Both are committed to continuing to share new findings and encourage those in the philanthropic community to engage in this important issue.
The Asset Funders Network (AFN) is a membership organization of national, regional, and community-based foundations and grantmakers strategic about using philanthropy to promote economic opportunity and financial security for low- and moderate-income Americans.
AFN works to increase the capacity of its members to effectively promote economic security by supporting efforts that help low- to moderate-income individuals and families build and protect assets.
Through knowledge sharing, AFN empowers foundations and grantmakers to leverage their resources to make more effective and strategic funding decisions, allowing each dollar invested to have greater impact.