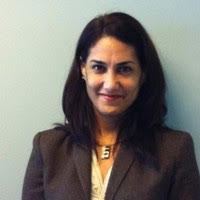 MESSAGE FROM MONA MASRI, SENIOR DIRECTOR
A theme of Women's History Month 2022 is "Providing Healing, Promoting Hope." It pays homage to the "ceaseless work of caregivers and frontline workers during this ongoing pandemic" and brings to the foreground the multiple ways women have provided both healing and hope throughout history.
To truly value and recognize women for the outsized role they play in supporting their families, communities, and our economy, we all must seek to do more than have a day or month where we share appreciative thoughts.  To the extent we can organize, exercise power, or invest in change, we must pursue real action. Only true systemic reinvention can result in all women being able to care for the physical, emotional and financial health of their families and communities, and themselves.
This requires a fundamental understanding of the obstacles women still face in the quest for greater gender economic equity. What is needed is a set of robust public and private sector policies and practices that address the root causes of women's economic inequity, including the fact that women still earn about 80 cents for every dollar earned by men, but own only 32 cents on the dollar compared with men. Single Black women and Latinas own less than $.01 for each dollar of wealth owned by men. To get to women's equality, we have to tackle both income and wealth inequality.
Since 2015, AFN has been lifting up the need to address the women's wealth gap through publications and convenings designed to help funders, policy makers and practitioners understand the root causes, challenges and strategies to close the gender wealth gap. After the initial call to action, AFN took a life course approach that looks at the causes, opportunities and solutions to greater gender wealth building equity.  In this way, funders and policy makers can better understand how to support the economic security, mobility, and ultimately wealth building for women through the different generations.
Policy solutions such as portable benefits, refundable child tax credits, social security caregiver's credit, part-time and domestic workers' bill of rights, minimum wage laws, paid family and sick leave, wage protections, and substantially increased senior and disability supports could have longer term impact on women's economic stability. Other strategies, given the right circumstances, can specifically help women build assets, including targeted home ownership and business start-up and expansion investment supporting individual ownership to cooperatives businesses.
Equally important in building assets is the ability to preserve wealth in order to pass along to future generations, helping to support their economic mobility. Asset protection strategies such as combating predatory financial products and lending, reforming out of balance judicial debt collection, eliminating medical debt, and ending fines and fees need investment in the advocacy and processes to correct them.  Why? Because all of them have the effect of stripping hard earned wealth and disproportionately destabilizing the security of Black and Brown women and their families.
The continued economic inequity of women is not inevitable, nor is it irreversible. Specific attention needs to be placed on using a race/class/gender intersectional lens in this work. While more research is needed to understand the full complexity of issues facing women, especially Black and Brown women, enough has been proven for philanthropy to take meaningful steps to make a big difference for women of all generations.  Philanthropy has a unique opportunity to support proven system change and pioneer groundbreaking work that can lead us to a more economically just and inclusive society. Putting women at the center of future policy decisions and reimagining how our systems operate is the path forward.
AFN continues to host peer conversations and to explore what is possible for philanthropic leadership. Join the conversation to advance women's equity.