Event
Arkansas: Health & Wealth Symposium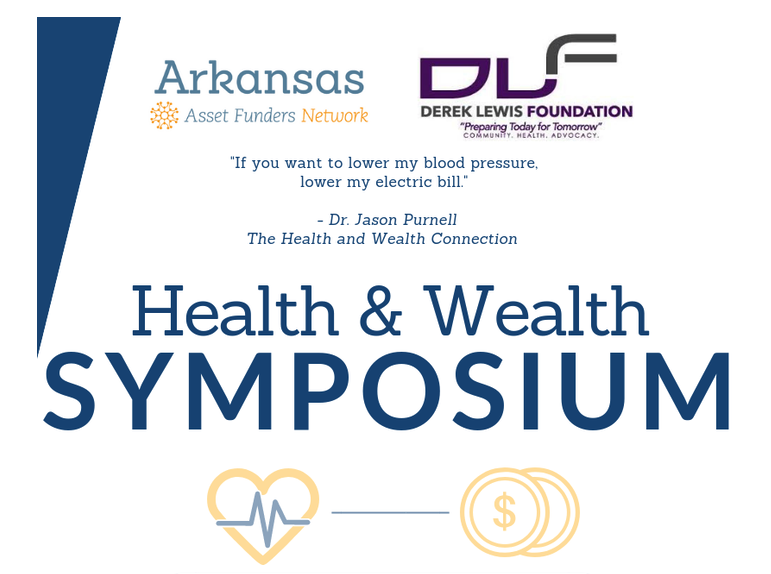 On Wednesday, October 17, 2018, the Arkansas Asset Funders Network (AR AFN) in partnership with the Derek Lewis Foundation, convened 80 community stakeholders, business leaders, government officials, nonprofit leaders, and philanthropists for the Health and Wealth Symposium convened at Philander Smith College in Little Rock, Arkansas.
The Symposium featured new research from Dr. Eddie Ochoa with the University of Arkansas Medical Sciences exploring health care cost-related hardships for Arkansas's working families with young children. Dr. Ray Bignall with Nationwide Children's Hospital unpacked how health is tied to one's economic well being and highlighted Nationwide's investment in individual and community infrastructure to promote both health and wealth. Inspiring, emotional TED-style Talks from leaders in their respective fields explored personal stories of health and wealth challenges and triumphs related to inequality, education, employment, community development, policy, and housing. Attendees interactively explored the complex intersection of health and wealth and examined the role of philanthropy, government, business, and nonprofit leaders play in promoting the integration of health and wealth strategies.
The Health and Wealth Symposium concluded with participants collaborating to identify tangible ways integrated health/wealth strategies in improve both health and wealth attainment for low- and moderate-income individuals and their families in Arkansas.
Sponsored by the AR Asset Funders Network and the Derek Lewis Foundation
Featured Speakers
Dr. Ray Bignall, Nationwide Children's Hospital
Dr. Eduardo Ochoa, Associate Professor of Pediatrics, University of Arkansas Medical Sciences
TED-style Talks Presented by:
Sara Bishop, University of Arkansas
Dr. Charles Feild, Monroe County Children In Trust
Kathy Grisham, Community Clinic
Marquita Little, AR Advocates for Children and Families
ShaRhonda Love, Arkansas Minority Health Commission
Martie North, Simmons Bank
Headlines:
80 plus stakeholder convened to discuss health equity and the connection between health and wealth in Arkansas
TED-style speakers challenged attendees to take action
Dr. Ray Bignall from Nationwide Children's Hospital inspired the group highlighting health/wealth work in Columbus, Ohio
Dr. Eddie Ochoa from AR Children's Hospital released a new report from Children's Watch and UAMS on the connections of health/wealth (official report is to be released soon!)
Attendees brainstormed action they could take personally and collectively in Arkansas which included promoting a complete count for the 2020 Census; promote affordable, quality housing; increasing funds and accessibility to quality, affordable early childhood education; designing holistic care options that strategically integrate health/wealth interventions; and advocating for a state Earned Income Tax Credit.