MEDIA RELEASE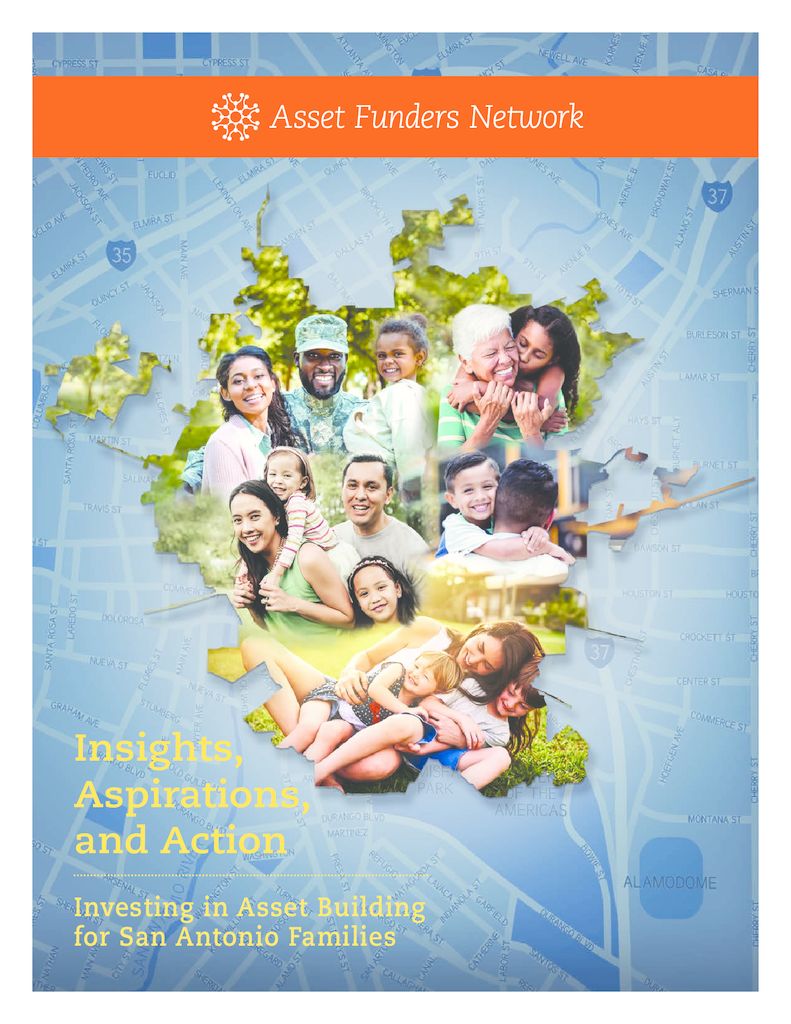 SAN ANTONIO (July 30, 2019) – A study analyzing growing disparities was released with clear and actionable steps to address the serious situation within the San Antonio community. Simultaneously, a collaborative group of funders and nonprofits stepped forward to announce the formation of a Financial Coaching Hub to address some of the recommendations from the study.
The study released by the San Antonio Area Asset Funders Network (San Antonio Area AFN) with lead support from JPMorgan Chase reveals significant pockets of poverty in San Antonio that must be addressed by expanding asset building strategies for low-income families. Asset building is the ability to gather resources that will help people spend, save, borrow, and plan for economic advancement and unexpected hard times. The study, developed by Texas Appleseed and supported by a steering committee of regional foundations and banks, along with additional backing from the San Antonio Area Foundation, Texas Capital Bank and Wells Fargo, draws on demographic, economic, education and healthcare data to describe San Antonio's low-income families.
"This study is already creating opportunities to help struggling families in a meaningful and lasting way," said Frances Gonzalez, regional program officer for the San Antonio Area AFN. "Today, we are pleased to announce the funding of a new resource to support financial coaching services here in San Antonio: the Financial Coaching HUB," said Gonzalez.
The Financial Coaching HUB will be managed by RAISE Texas, a statewide nonprofit organization that supports asset-building activities for low- and moderate-income families. The first program of the Financial Coaching HUB will train 30 financial coaches to assist residents with tools and solutions. The program will launch in October 2019, and the Financial Coaching Hub site will be announced in Fall 2019.
"Financial coaching has proven to help families in San Antonio reduce debt, save significantly, increase their credit scores, and purchase homes," said Morris Camp, market executive for JPMorgan Chase in San Antonio. "We are pleased to support this work as part of our $125 million, five-year commitment to advancing financial health for customers, communities and employees."
In addition to JPMorgan Chase, Wells Fargo and the Texas Women's Foundation have stepped up as initial funders of this financial coaching program which seeks expansion and additional partners for 2020 and beyond.
"We funded the establishment of the San Antonio Area AFN because we are committed to collaborative solutions that advance equity in our community," said Marjie M. French, chief executive officer of the San Antonio Area Foundation. "Further, our support of the study and its results provides a clear pathway to help families in a substantive way."
Key Statistics from the Study:
With 35 percent of Hispanic female and 27 percent of African American female heads of household living in poverty, an economic crisis exists in our city that demands a significant, coordinated response.
Women of all ethnicities and African American men are the least economically mobile populations in San Antonio.
San Antonio families have lower median credit scores, higher delinquent debts and limited savings compared to the US. African American and Hispanic residents consistently have worse financial health outcomes compared to White residents, except when it comes to student debt.
Most low-income San Antonio renters spend more than one-third of their income on housing, making them housing burdened, and evictions are increasing.
Four zip codes (78202, 78207, 78208, 78211) were identified as "high need", indicating worse than average outcomes for two or more data categories such as poverty, unemployment, uninsured, income, and education.
Key Recommendations in the Study:
The report proposes recommendations to enhance asset building resources and opportunities for high need populations. Recommendations are grouped under six categories in the report:
Foster integration of asset building and social safety net services (e.g., Financial Empowerment Centers, improved referral systems, convenings on asset building)
Focus on highest need geographies and populations (e.g., investments in high need zip codes, community engagement in grantmaking)
Enhance safety net for low-income families (e.g., re-examine funder guidelines for services, wrap-around services for single mothers pursuing education/training, legal services for debt claims and eviction cases)
Expand access to products and services that support asset building and asset preservation (e.g., financial coaching, low-cost financial services, alternatives to tax time loans, reduction of subprime services)
Support local policy work to ensure public, nonprofit and philanthropic efforts best complement each other (e.g., workforce development that prioritizes long-term financial well-being, engagement with City of San Antonio's equity budgeting process and local affordable housing efforts)
Offer organizational support to nonprofits to enhance long-term viability and outcomes (provide long-term funding and share common evaluations, invest in nonprofits' organizational and staff capacity)
The study was shared with a standing-room only crowd at the Area Foundation on July 30, 2019.
Resources and Documents
The executive summary of the study is available online, and the full report is also available.
Review the slides in PDF from today's presentation.
****************************************
About San Antonio Area Asset Funders Network (AFN): San Antonio Area AFN is a regional chapter of grantmakers who invest in opportunities for low- and middle-income individuals and families to build economic well-being. Our network seeks to connect funders and their peers in the nonprofit, public, and private sectors to share promising programs and smart strategies, gather knowledge to make their grantmaking more effective, and work to increase investments in asset building. For more information, visit https://assetfunders.org/regional-chapter/san-antonio/.
About the San Antonio Area Foundation: The San Antonio Area Foundation has served as the sole, designated community foundation for the San Antonio area for over half a century, growing to become one of the top 20 foundations in the nation based on asset size. The Area Foundation helps donors achieve their charitable goals, managing more than 500 charitable funds approaching $1 billion in assets. Coordinating efforts with numerous area nonprofits, the Area Foundation serves as a collaborative leader, connecting donors to address key community issues and investing in our future. Since 1964, over $400 million in scholarships and grants have been awarded to enhance the quality of life in our region. Learn more at saafdn.org.
About Texas Appleseed: Texas Appleseed is a public interest justice center that works to change unjust laws and policies that prevent Texans from realizing their full potential. Our nonprofit conducts data-driven research that uncovers inequity in laws and policies and identifies solutions for lasting, concrete change. For more information, visit www.TexasAppleseed.org
Contact:
Rebecca Helterbrand, rhelterbrand@saafdn.org, (210) 710-4812
Jennifer Farland, jennifer@assetfunders.org, (202) 297-1261